Tom, Grant, Allison, (and I), and Wally worked to get the area by the fish pond, under the peach and through to the chestnut cleared out a bit and ready for the hammock. Also got a bit of pruning on the apple tree and ceanothus — not usually done this time of year, but they were overgrown and leaning in the wrong direction. And a few other things… the yard is FINALLY looking like someone cares, and to be honest, so is the house. Swept floors, got a start on cleaning the kitchen's surfaces/sinks/cupboards… and stopped before anyone was too badly hurt.
In no particular order…
And last but not least… the hammock!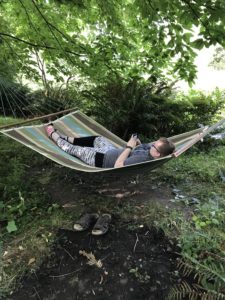 ---